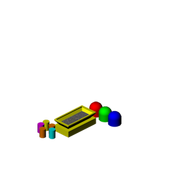 Basic Structure
Edit
This improved Regolith Separator processes more efficiently for greater yields.
It also extracts small amounts of Hydrogen and Gold from the Regolith. Build Large Hoppers to store your Resources .
Requirements
Edit
Basic Stats:

Price: $100,000
Size: 2x2
Power: -1500W
Jobs: 18
Level: 8

Prerequisites:

3000 Metal
250 Mooncrete Blocks

Yields:

387 Oxygen
3 Hydrogen
189 Silicon
234 Metal
72 Calcium
10 Gold

Yield Time: 3d0h (72s)
Estructura básica
Edit
Este avanzado separador de sustrato procesa el suelo de manera más eficiente y produce más materiales.
También extrae una pequeña cantidad de hidrógeno y oro del suelo.
Requisitos
Edit
Datos básicos:

Precio: $100,000
Tamaño: 2x2
Energía: -1500W
Trabajos: 18
Nivel: 8

Requisitos previos:

3000 Metal
250 ladrillos lunares

Producción:

387 oxígeno
3 hidrógeno
189 silicio
234 metal
72 calcio
10 oro

Tiempo de producción: 3d0h (72s)
Ad blocker interference detected!
Wikia is a free-to-use site that makes money from advertising. We have a modified experience for viewers using ad blockers

Wikia is not accessible if you've made further modifications. Remove the custom ad blocker rule(s) and the page will load as expected.