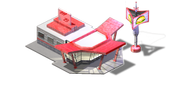 Basic Structure
Edit
A place for your hungry lunar population to get a bite to eat in a friendly themed diner. Genuine lukewarm faux-meat burgers and soy milkshakes sold at obscenely hiked prices by over-friendly staff. What more could a budding lunar worker want?
See the Facilities menu for more money earning structures such as the Office Building .
Requirements
Edit
Basic Stats:

Price: $500,000
Size: 2x2
Power: -500W
Jobs: 4
Level: 10

Prerequisites:

1,000 Metal
5,000 Mooncrete Blocks
1,000 Glass

Yields:




Yield Time: 4d0h (96s)
Ad blocker interference detected!
Wikia is a free-to-use site that makes money from advertising. We have a modified experience for viewers using ad blockers

Wikia is not accessible if you've made further modifications. Remove the custom ad blocker rule(s) and the page will load as expected.