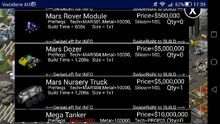 Mars Modules
Edit
A Mars Module that gives the prerequisite Mars Nursery Truck for landing a Tree nursery on Mars. It is built in the ShipYard.  
See the Mars Inc.list for more Mars modules.
Requirement
Edit
Basic Stats:

Price: $5,000,000
Size: 1x1

Prerequisites:

MARS04 Tech
10,000 Metal
100 Silicon

Yields:
Ad blocker interference detected!
Wikia is a free-to-use site that makes money from advertising. We have a modified experience for viewers using ad blockers

Wikia is not accessible if you've made further modifications. Remove the custom ad blocker rule(s) and the page will load as expected.