Basic Structure
Edit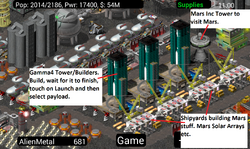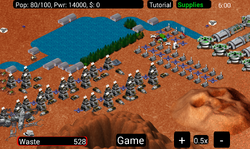 This is your portal to Mars.The Mars button takes you to Mars.
Build Gamma 4 rockets or a few of the Gamma 4 Build/Launch Facility and launch rovers and modules to start Mars Terraforming.
Start by building most of the 1x1 Mars modules in the ShipYard and sending them on Gamma 4 rockets from 1x1 Landing Pads or from the Gamma 4 Build/Launch Facility. Some of these 1x1 modules can then by recycled as complete modules back into your Mars inventory to be built into the more advanced 2x2 Mars buildings.
Start with the 2x2 Life Support Module as it can be placed anywhere.
Mars terraforming is complete at 1,000M Heat and Gas release. Touch on the "Supplies" box at the top right of the game to see your progress.
Requirements
Edit
Basic Stats:

Price: $1,000,000
Size: 2x2
Power: -50W
Jobs: 1
Level: 16

Prerequisites:

10000 Metal
5000 Glass
25000 Mooncrete Blocks

Yields: