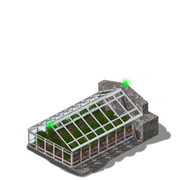 Basic Structure
Edit
Large, environmentally zoned greenhouse for farming a large range of vegetable crops. This is one of the most advanced Facilities for producing food, along with the Fish Farm .
Requirements
Edit
Basic Stats:

Price: $60,000
Size: 2x2
Power: -500W
Jobs: 4
Level: 8

Prerequisites:

1000 Metal
100 Mooncrete Blocks

Yields:

200 Food
-16 Water
-40 CO2
40 Oxygen

Yield Time: 2d0h (48s)
Ad blocker interference detected!
Wikia is a free-to-use site that makes money from advertising. We have a modified experience for viewers using ad blockers

Wikia is not accessible if you've made further modifications. Remove the custom ad blocker rule(s) and the page will load as expected.