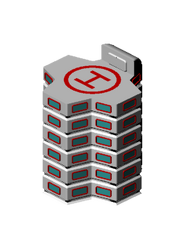 Basic Structure
Edit
Large medical facility capable of emergency and palliative care. Includes paramedic facilities and advanced diagnostic machinery.
This building puts an Ambulance on the road.
Requirements
Edit
Basic Stats:

Price: $500,000
Size: 2x2
Power: -1,000W
Jobs: 10
Level: 11

Prerequisites:

5000 Metal
5000 Mooncrete Blocks

Yields:


Yield Time: 7d0h (168s)
Ad blocker interference detected!
Wikia is a free-to-use site that makes money from advertising. We have a modified experience for viewers using ad blockers

Wikia is not accessible if you've made further modifications. Remove the custom ad blocker rule(s) and the page will load as expected.