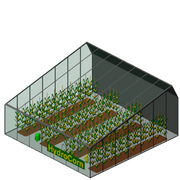 Basic Structure
Edit
'Corn' covers the range of grass based crops such as Maize, Wheat and Rice. These crops require a lot of growing area relative to their yield. This greenhouse is configured specifically for these crops.
Also build the Moonshine Distillery to then make Moonshine from the corn. Sell this Moonshine as a Resource on The Market for a good profit.
Requirements
Edit
Basic Stats:

Price: $100,000
Size: 2x2
Power: -1,000W
Jobs: 4
Level: 9

Prerequisites:

1,000 Metal
1,000 Mooncrete Blocks

Yields:

Yield Time: 4d0h (96s)
Ad blocker interference detected!
Wikia is a free-to-use site that makes money from advertising. We have a modified experience for viewers using ad blockers

Wikia is not accessible if you've made further modifications. Remove the custom ad blocker rule(s) and the page will load as expected.